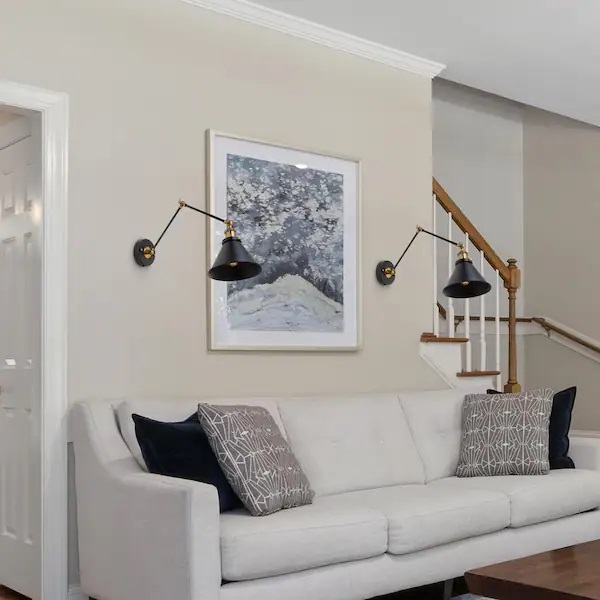 Adding Modern Chic with a Black Swing Arm Wall Sconce
Introduction
Lighting fixtures serve both an aesthetic and functional purpose in homes. They can help create ambiance and serve as a statement piece, while also providing necessary lighting for tasks. One particular lighting fixture that has been gaining popularity in recent years is the black swing arm wall sconce. This article will explore the features and benefits of this fixture and how it fits into modern interior design trends.
Features of a Black Swing Arm Wall Sconce
A black swing arm wall sconce is a type of light fixture that is mounted on the wall and has an adjustable arm. This arm can be moved in a variety of directions to direct the light where it is needed. The head of the sconce can also be adjusted to control the amount and direction of the light. The black finish of the fixture gives it a sleek, modern look that can fit into various design styles. Additionally, the swing arm feature allows for flexibility in design and functionality.
Benefits of a Black Swing Arm Wall Sconce
One major benefit of a black swing arm wall sconce is its versatility. Its design allows it to fit into many different spaces and design styles. For instance, it can be used as a bedside reading light, as an accent light over a piece of artwork or a decorative element, or as a task light for a workspace. Additionally, the adjustable arm and head of the sconce provide customized lighting options for the user. This feature is especially helpful for those who prefer to have dimmer lighting in the evening or require brighter lighting for specific tasks.
Fitting into Modern Interior Design Trends
The black swing arm wall sconce fits perfectly into modern interior design trends. Its sleek, minimalist design complements the clean lines and neutral color palettes that are popular in modern decor. Furthermore, its adjustable arm and head make it a functional addition to any modern workspace or living space. With the rise of remote work and home offices, having good lighting has become increasingly important. As such, these sconces are a practical addition to any space where work and productivity are important factors.
Design Ideas for Incorporating a Black Swing Arm Wall Sconce
There are many ways to incorporate a black swing arm wall sconce into your home's interior design. Some ideas include:
Use as bedside reading lights
Position over a piece of artwork or a decorative element to highlight it
As task lighting for a home office or workspace
Ambient lighting for a living room or bedroom
Use multiples of the same fixture in a row for a stunning visual effect